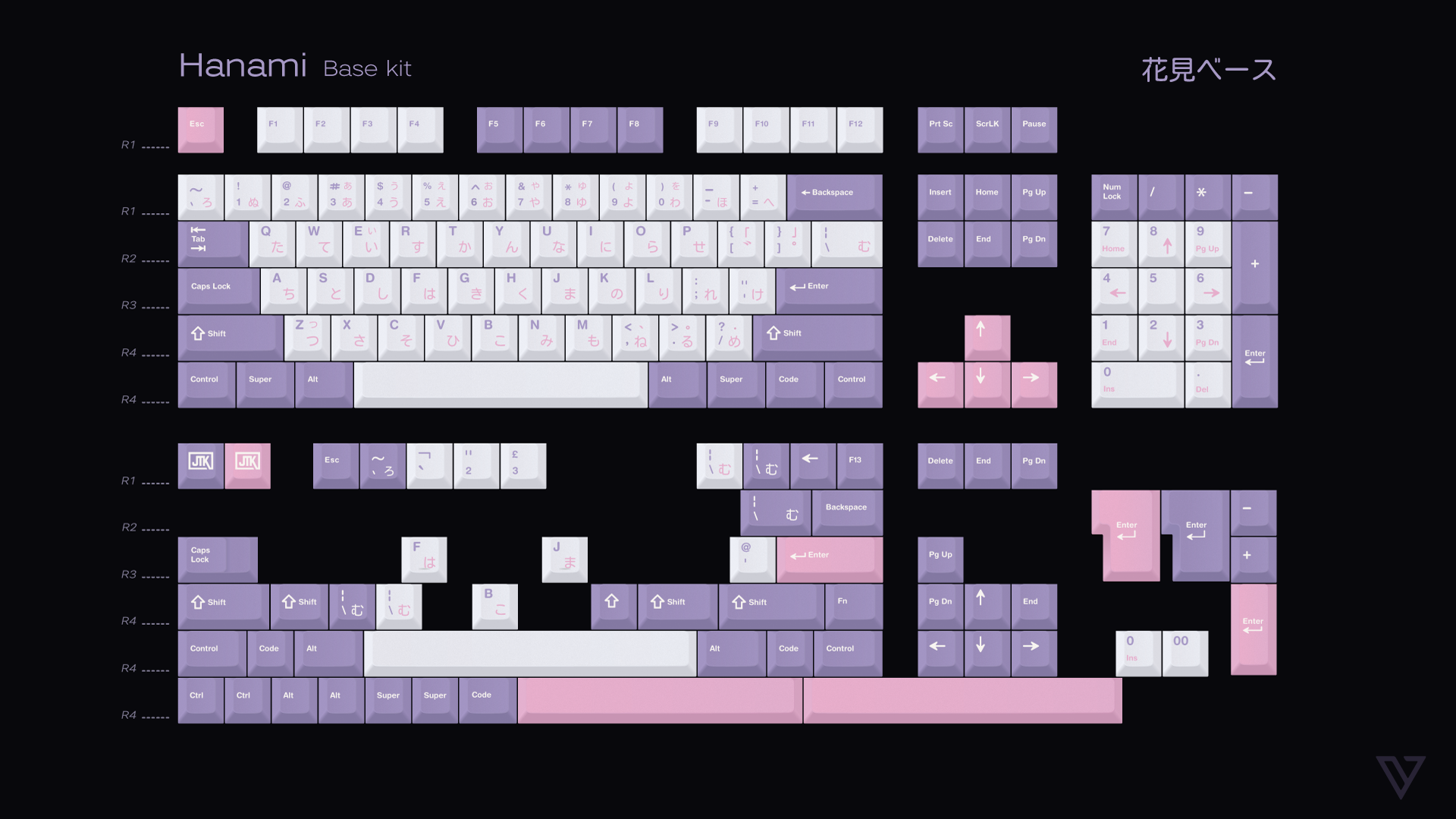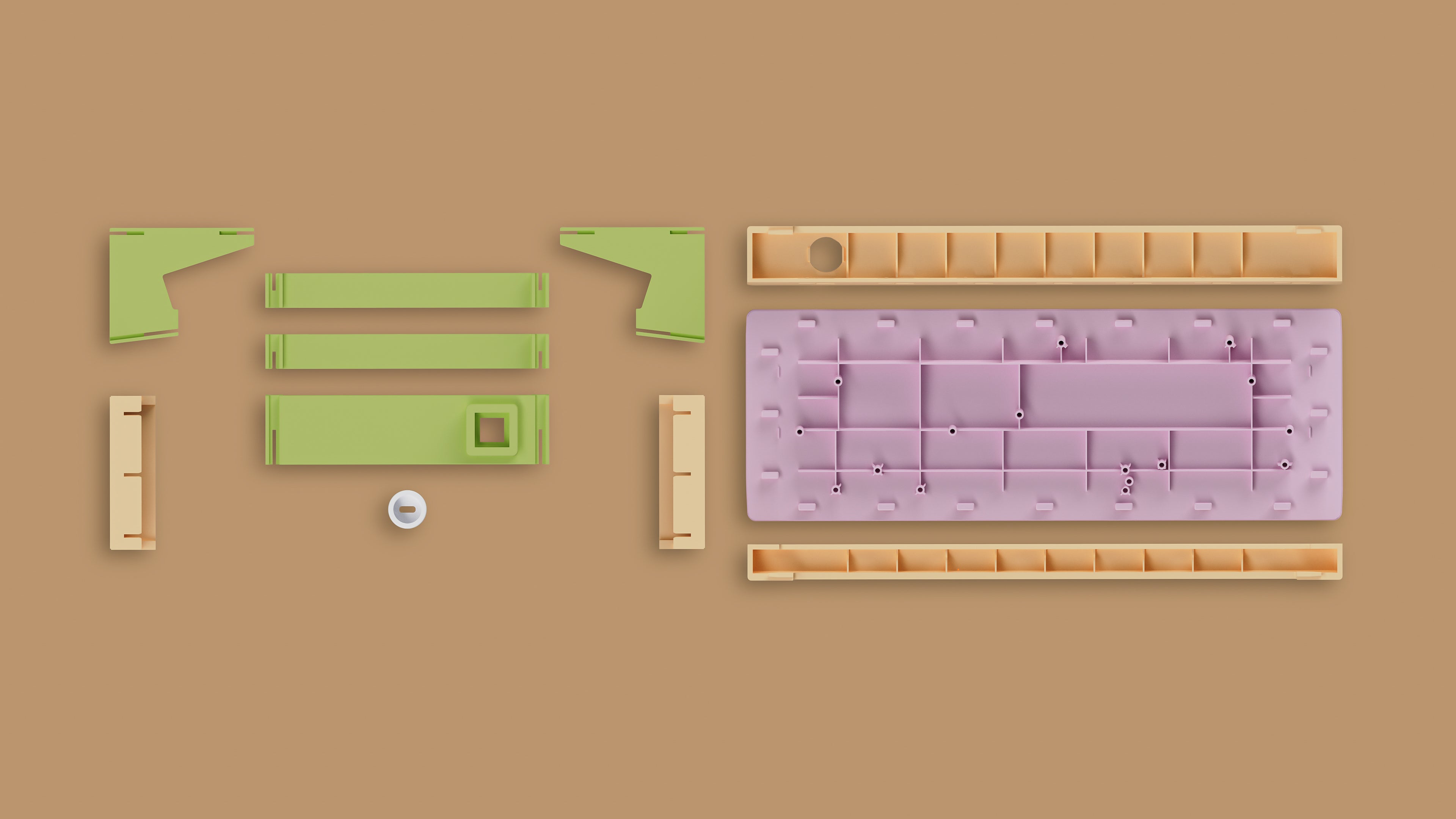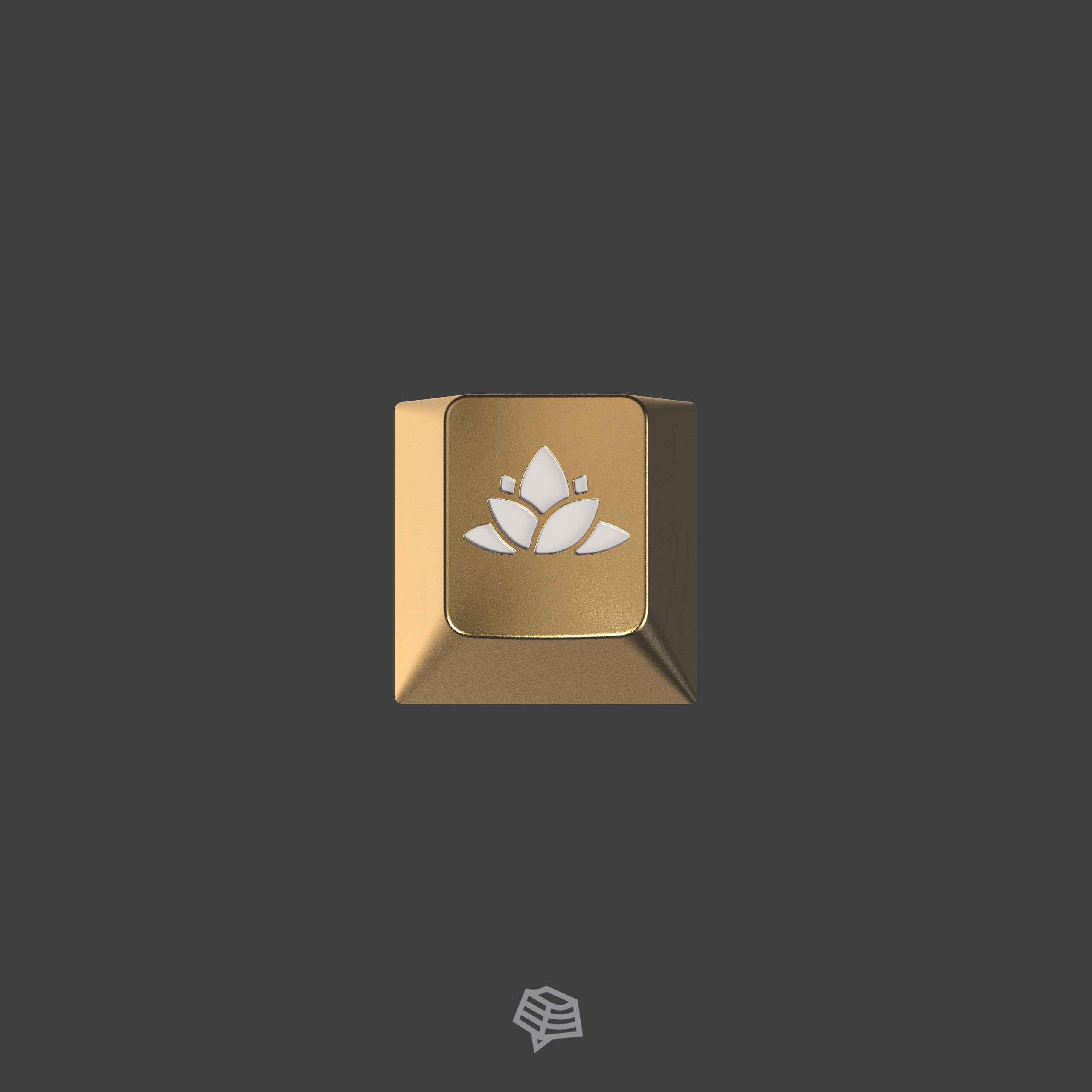 JTK Hanami (In Production)
Group Buy ran from April 25th -  May 25th and is scheduled to ship in Q4 2022. What is a Group Buy? 
Designed by Vala, this set is inspired by the original DSA and JTK Hana keycap sets and the Japanese tradition of seasonal flower viewing called Hanami (花見). The typical practice involves observing the cherry blossom and having outdoor parties underneath the trees. It must be carefully planned as the blossom only lasts a week or two. A more ancient form of hanami also exists in Japan, which is enjoying the plum blossoms instead, which is narrowly referred to as Umemi (梅見).
Further inspired by the beautiful shades of the plum blossom, the Umemi colorway offers a clean and subtle alternative with all white keycaps subtlety contrasted by pink and gold. The main colorway stays true to the original Hana colors with purple modifiers, white alphas, and pink accents.
Enabled by a multitude of novelty options and a comprehensive base kit, you can combine both the Hanami and Umemi colorways to create unique layouts making use of the synergistic colorways. Green matcha accents and novelties can also be used to further customize your layout. 
KEYCAP SPECIFICATIONS
Two colorways - Hanami and Umemi
Tons of novelties - Customize your layout to your delight using the huge novelties kits and the additional matcha green accent novelty kit!
New "Senshi" kit for MOBA and other gamers - Features matching modern Japanese novelties to use for your game keybinds!
Cherry profile
Triple-shot legends (in base kits)
1.5mm thick high quality ABS plastic
MX switch compatible
Manufactured by JTK 
THE PRODUCTS BELOW MAY SHIP EARLY IF ORDERED SEPARATELY: 
DESKMAT SPECIFICATIONS:
900x400mm with 4mm thickness
Anti-fray stitched edges
High quality cloth top and rubber anti-slip bottoms
6 colourway options to complete the look
BBOX60 SPECIFICATIONS:
60% keyboard case designed by Buger →
Hanami BBox60: pink top and purple bottom & cable port
Umemi BBox60: yellow top and pink bottom, white cable port
Both types come with a matcha green keyboard stand!
Comes with keyboard case and stand only (does not include PCB, switches, keycaps, stabilisers, etc.)
Material: Injection molded ABS
Typing Angle: 7 degrees
PCB Compatibility: GH60 / GK61 / GK64 / other 60% PCBs

NOTE: Does not include PCB
KEYBEE METAL ARTISANS:
CNC-milled aluminum R1 profile 1u keycaps
Sakura: matching pink anodization, featuring a cherry blossom design with white enamel infill
Lotus: matching gold yellow anodization, featuring a lotus flower design with white enamel infill
Manufactured by Keybee →
 Not in Oceania?
The images shown are renders of the product and are only used to estimate the final product. The end product may vary in color from the renders as they are not guaranteed to be 100% accurate to the end product. By purchasing this product, you are agreeing to the above terms and the Group Buy/Pre-Order and Refund Policy found here.