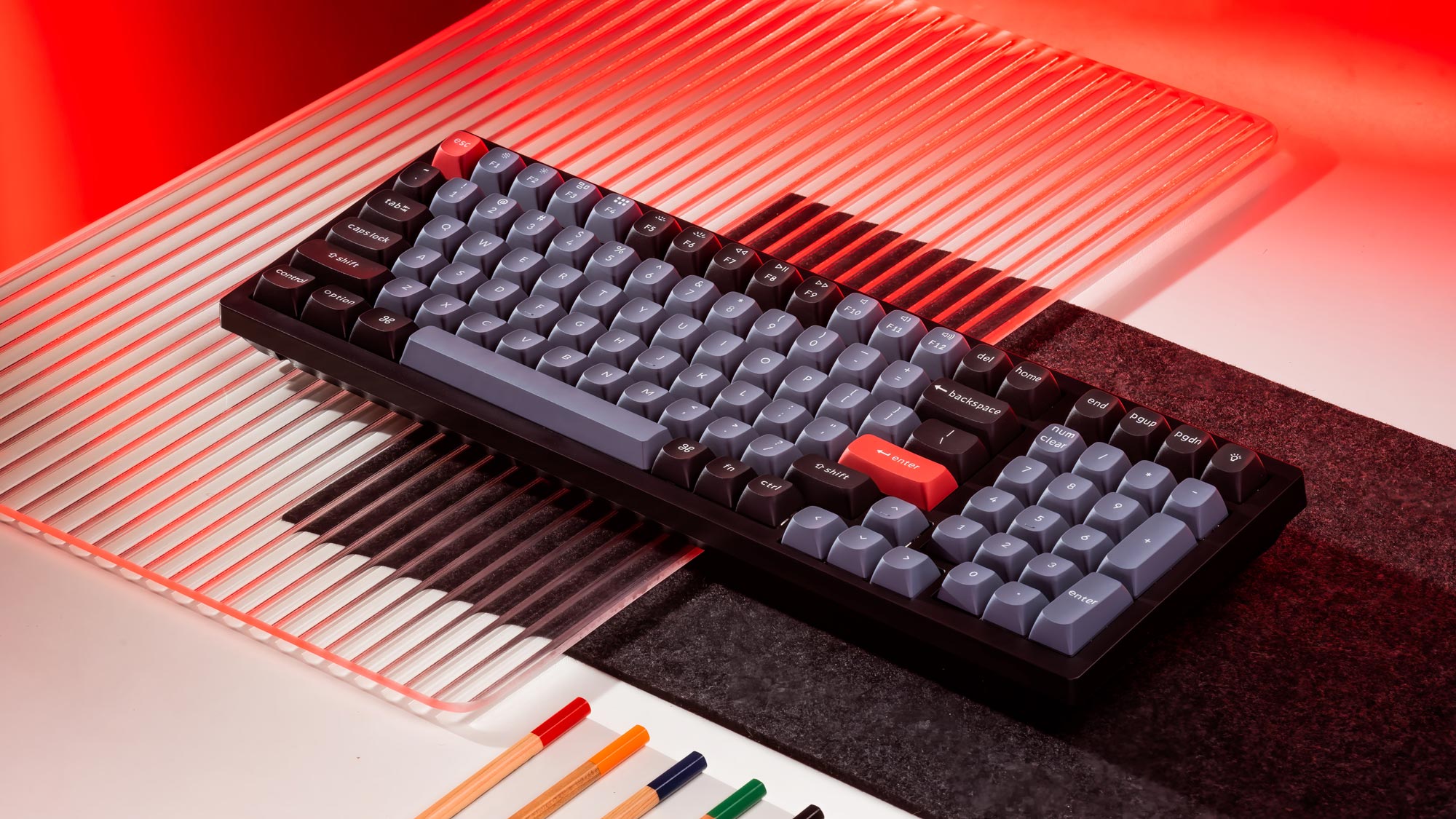 Keychron K4 Pro 96% Wireless Mechanical Keyboard Kit
K4 

Pro
A 96% layout QMK/VIA wireless custom mechanical keyboard 
Wireless and Wired
An excellent solution for multitasking. You can connect the K4 Pro with up to 3 devices wirelessly via its stable Broadcom Bluetooth 5.1 for seamless multitasking across your laptop, phone, and tablet. Switch among them swiftly, and it's fully compatible with both Mac and Windows.

A reliable USB Type-C wired connection is also available when you need it.
Program with QMK & VIA.
QMK/VIA means endless possibilities for a fluid workflow. 
Simply connect the K4 Pro to your device with a cable, drag and drop your favorite keys or macro commands to remap any key you want on any system (macOS, Windows, or Linux). 
Check out the video above demonstrating how to remap the Light Effect key (located on the K4 Pro's top right corner) to an Eject key with the VIA software, so you can get a shortcut to put your Mac to sleep (Command-Option-Eject), or even remap the fn key in a breeze. It's never been so intuitive and flexible to personalize your own keymap.
An ultra-low-power ARM Cortex-M4 32-bit STM32L432 MCU which is powerful, and equipped with 128K Flash will provide more flexibility for developers.
Get the keymap working on VIA
Since the VIA code for the K4 Pro is still awaiting approval from Github, it is not yet automatically recognized, so you will need to manually download and import the K4 Pro keymap.
Please download the keymap JSON file below. Connect your keyboard and device with the provided cable, and toggle the switch to cable mode. Open VIA, click on the "Show Design tab" on the "Settings" tab, enable "Use V2 definitions (deprecated)" on the "Design" tab, and drag the JSON file into the "Design" tab on VIA to get the K4 Pro keymap working on VIA.
K4 Pro Keymap JSON Files
Upgraded Typing Experience
The K4 Pro has been re-engineered and redesigned from the inside out to upgrade the typing experience. The added sound-absorbing foam, a thick silicone dampening bottom pad, and steel plate provide responsive feedback and a peaceful typing sound, while added weight will enhance the stability.
Suitable For All Devices
Offers a Mac layout while still being compatible with Windows, the K4 Pro is one of the few on the market that has the same multimedia and function key functions as Apple keyboards for Mac users, but with more tactile feedback.

You can even configure different keymaps for both Mac and Windows devices. While VIA software is compatible with macOS, Windows, and Linux. Includes keycaps for both macOS and Windows (3 keycaps for each) to allow you to switch between operating systems with ease.

Check high-res keycap layout and size here.
Hot-swappable
Every detail matters, so we make the K4 Pro hot-swappable for your personalized typing experience. The hot-swappable sockets are mounted on the PCB, so you can hot-swap every switch on the K4 Pro with almost all of the 3pin and 5pin MX style mechanical switches on the market (including Cherry, Gateron, Kailh, Panda, etc.) without soldering. You can customize your own typing experience in seconds.