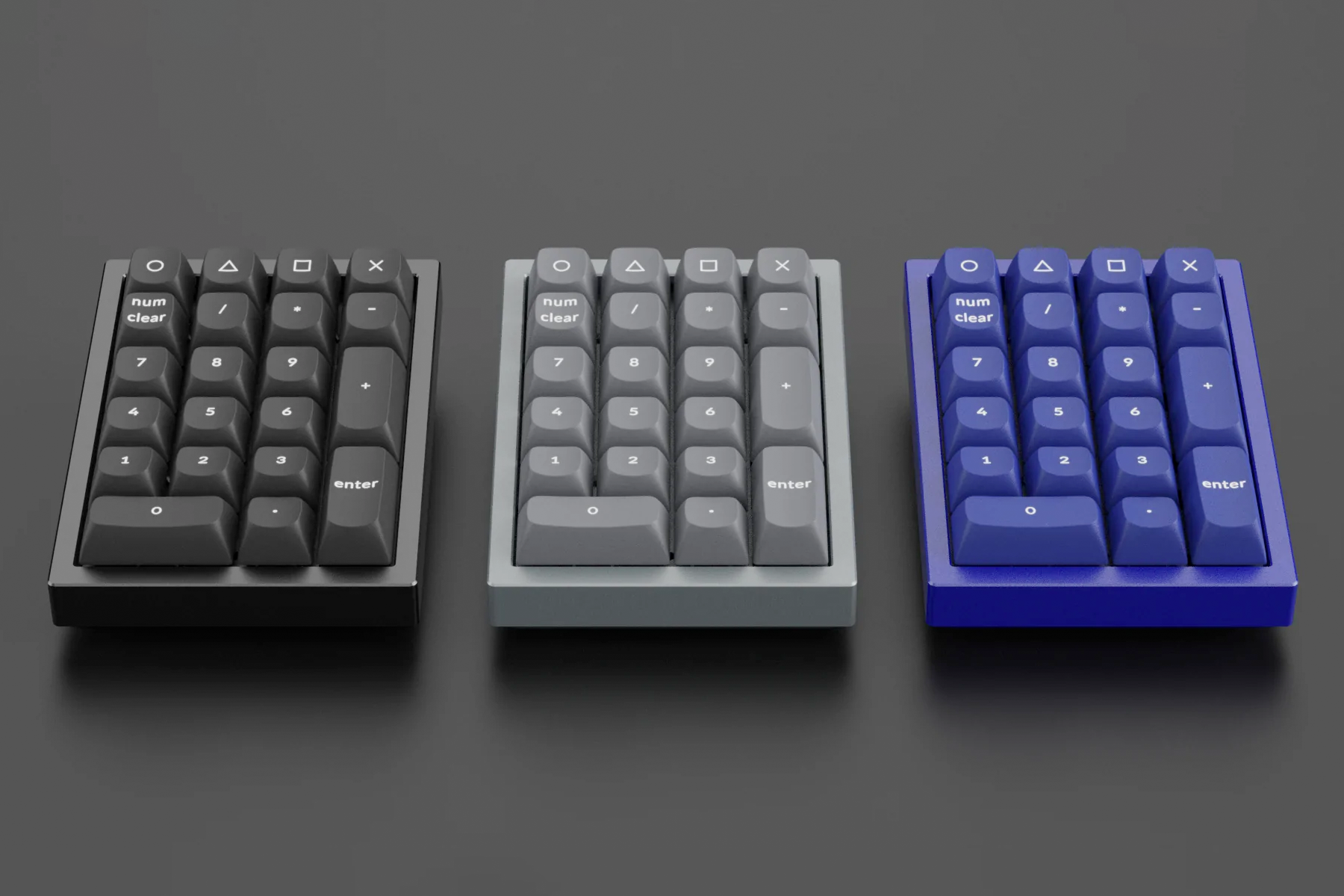 Keychron Q0 Mechanical Number Pad
QMK Customizable Mechanical Number Pad
A full aluminum mechanical number pad  with hot-swappable function, CNC aluminum case, QMK/VIA support and more.
The fully assembled version includes:

The number pad PCB, the case, and the steel plate

Double-shot OSA PBT keycaps

Gateron G Pro switches (Brown)
Premium Metal Gadget
The mini metal body is crafted with 6063 aluminum that is processed through CNC machines, polished, anodized, sandblasted, and undergoes 24 more manufacturing stages to make the Q0 a beautifully crafted gadget for your desk. 
Get the Q0 keymap working on VIA
To get started, please follow the steps: Download the appropriate keymap JSON file below, open VIA, turn on the "Show Design tab" on the "Settings" tab, and drag the JSON file into the "Design" tab on VIA to get the Q0 keymap working on VIA. Since the VIA code for the Q0 is still awaiting approval from Github, it is not yet automatically recognized, so you will need to manually download and enter the Q0 keymap.

Note: Only the right JSON file can be input, please find the right version keymap JSON file which matches your number pad to download.
Keychron Q0 Keymap JSON File
OSA Profile Double-shot PBT Keycaps
For the new double-shot PBT keycaps, we built a new profile. It has a similar height to the OEM profile and has an SA-like shape. We named it the OSA (OEM spherical angled) keycap. The PBT keycaps will provide excellent oil resistance, enhance the type feel, and prevent the legends from fading out.
All New Screw-In PCB Stabilizers
The screw-in design increases stability and makes it easier for changes and upgrades. Precise craftsmanship makes the stabilizers more stable and less shaky. The big keys' (0, +, enter) typing experience is now more stable and smoother. The Keychron Q0 also supports third-party stabilizers, including Cherry or Durock.
Hot-swappable
The hot-swappable sockets are mounted on the PCB, so you can install or change the switches without soldering. The PCB supports both 3 pin and 5 pin MX mechanical switches.
South-facing RGB LED Lights
The south-facing RGB LED is designed to better illuminate the number pad backlight from the typist's angle with the premium non-shine-through PBT keycaps installed. The south-facing RGB is also free from interference when the users install OEM or Cherry-profile alternative keycaps on the number pad.
Note: The Q0's top case has sharper corners to make it much more compatible with third-party keycaps.
Pre-lubed Gateron G Pro Switch
The optimized molded switch with more precise positioning and less wobble will undoubtedly improve the feel at your fingertips. With the fully assembled Q0 version fitted with factory pre-lubricated Gateron G Pro switches, a smoother travel experience is guaranteed for you.