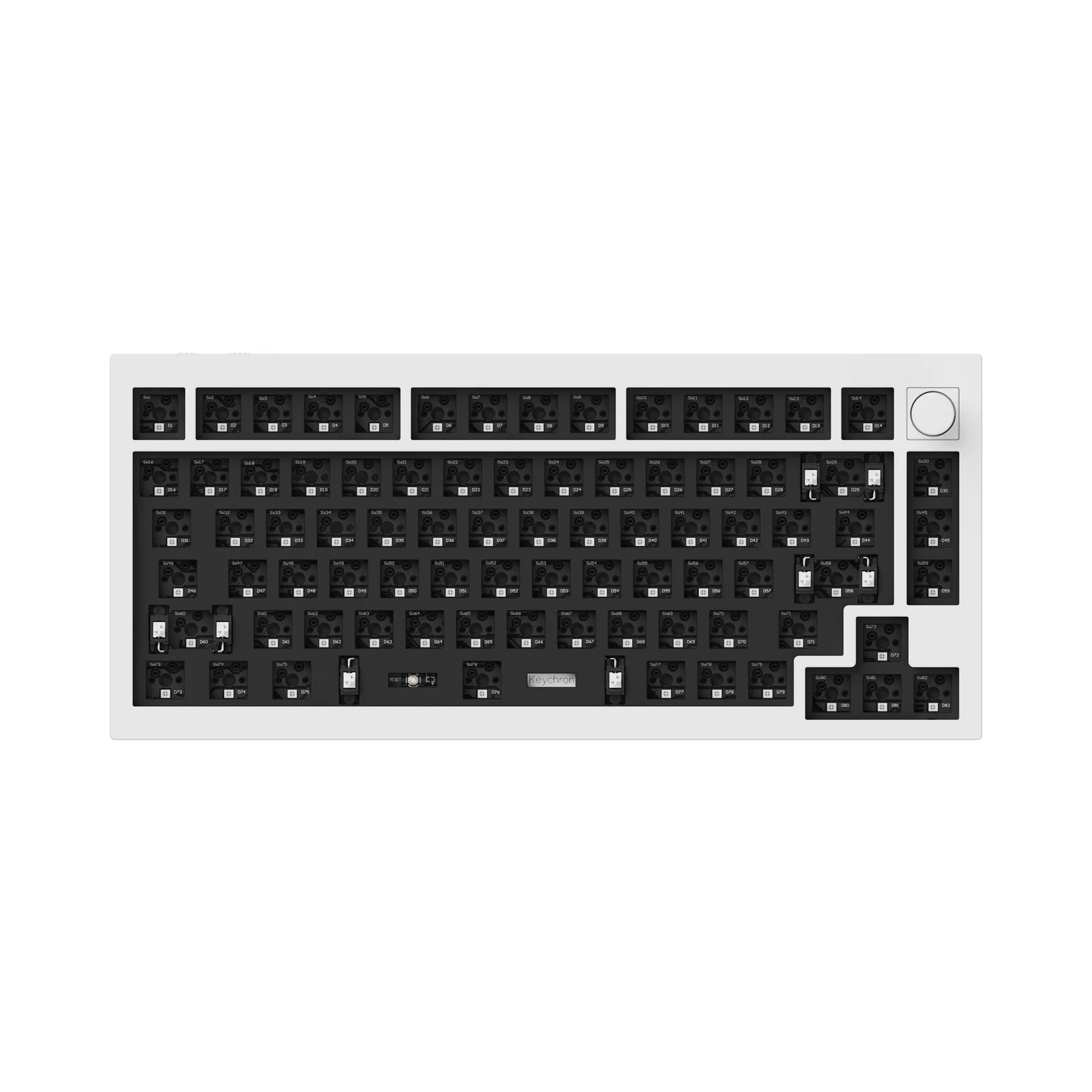 Keychron Q1 Pro - Barebones Kit
KEYCHRON Q1 PRO  - BAREBONES KIT
Meet the Keychron Q1 Pro, a groundbreaking full metal QMK/VIA wireless custom mechanical keyboard. Along with our many premium designs, including double-gasket design, PBT keycaps, screw-in stabs, etc., it will deliver you an unprecedented typing experience!
Wireless and Wired
An excellent solution for multitasking. You can connect the Q1 Pro with up to 3 devices wirelessly via its stable Broadcom Bluetooth 5.1 for seamless multitasking across your laptop, phone, and tablet. Switch among them swiftly, and it's fully compatible with both Mac and Windows. A reliable USB Type-C wired connection is also available when you need it.
A Refined Piece Of Metal Art
The entire metal body is crafted with 6063 aluminum that is processed through CNC machined, polished, anodized, sandblasted, and undergoes 24 more manufacturing stages to make this solid metal piece of art that is the Q1 Pro. 
Easy Assemble
We designed every component to be able to assemble easily so you can customize and adjust each component with ease to create your ultimate typing experience.
Double-Gasket Design
The Double Gasket Design is a new innovative structure in the industry. In addition to the gaskets on the plates, we added silicone pads between the top and bottom cases to significantly reduce the sound resonance between the metals and reduce the noise of the impacted metals. 
Experience the next level of key sounds and comfort with our gasket mount design together with a flexible PC (Polycarbonate) plate. This design combination allows the keyboard to maintain the flexibility of the gasket structure and improves the overall typing sound.
An Epic Core Inside The Keyboard
A powerful ultra-low-power ARM Cortex-M4 32-bit STM32L432 chip (MCU) equipped with 128K Flash will provide more flexibility for developers. The polling rate is 1000 Hz right out of the box on type-c wired mode (90 Hz on wireless mode), which makes the latency hardly noticeable even in competitive games.
Programmable Knob
Designed to enhance your creative workflow, the aluminum rotary encoder allows you easily customize the knob to your desired key or macro commands like zooming in/out, adjusting screen brightness, brush size, volume, selecting video clips or photos, or backlight hue.
Program The Q1 Pro with QMK & VIA.
Endless possibilities for a fluid workflow thanks to its ability to remap any key, and create macro commands, shortcuts, or key combinations through the QMK/VIA.
Check out the video above demonstrating how to remap the Home key to an Eject key with the VIA software to create a shortcut to put your Mac to sleep (Command-Option-Eject).
Hot-Swappable
Every detail matters for a personalized typing experience, that's why we give you the power. You can hot-swap every switch on the Q1 Pro with almost all of the 3pin and 5pin MX style mechanical switches on the market (including Cherry, Gateron, Kailh, Panda, etc.) without soldering required. You can customize your own typing experience in seconds.
South-Facing RGB
Comes with 22 types of RGB backlight settings. You can further fine-tune the RGB hue, saturation, brightness, effect speed, and different modes, or even remap these keys with QMK/VIA.