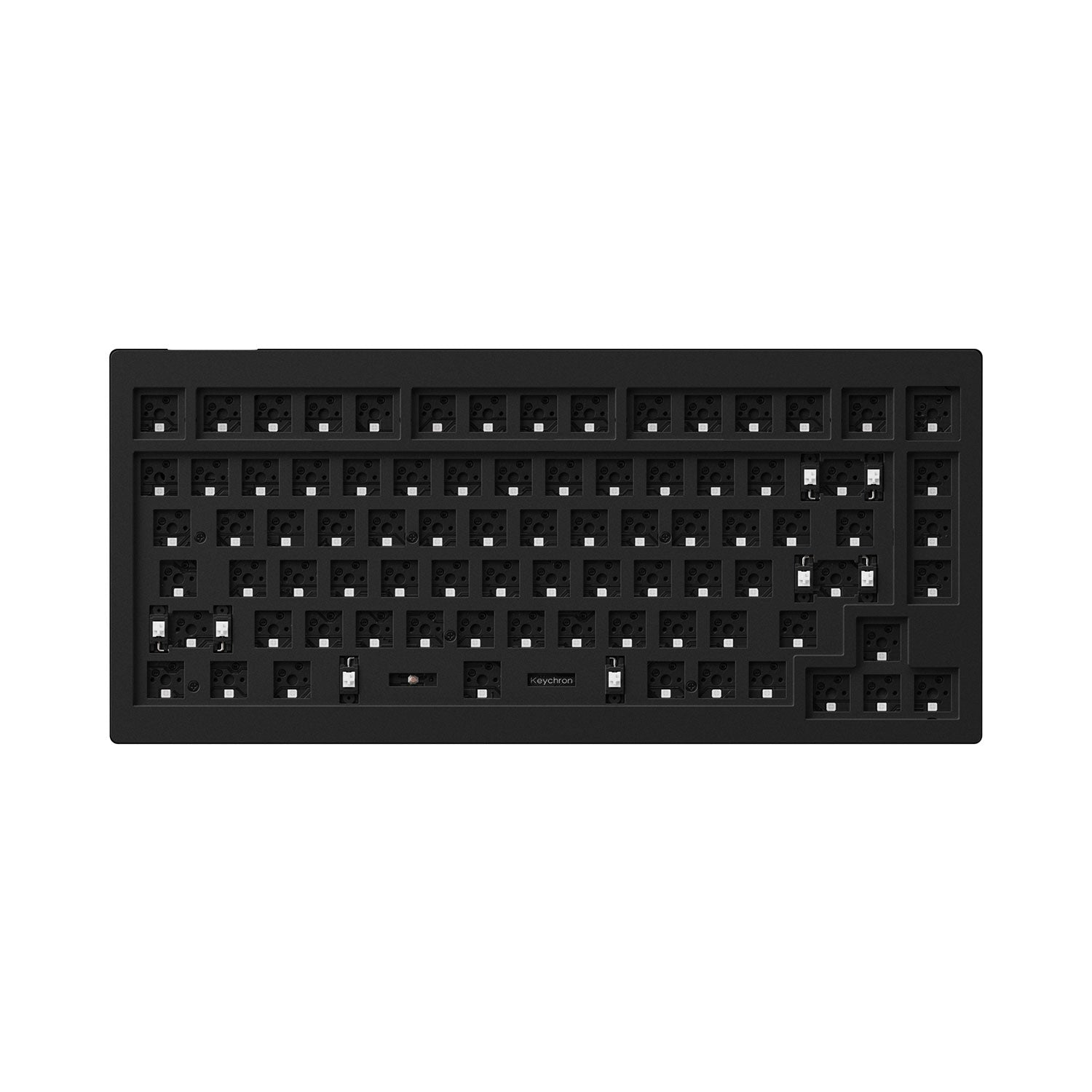 Keychron V1 Knob - Barebones Kit
Keychron V1 Knob - Barebones Kit
The V1 is a fully customizable mechanical keyboard ready for any situation. It's a great option to introduce you to the custom keyboard world. With its compact 75% layout, QMK/VIA support, acoustic silicone pad, and double-shot PBT keycaps, the V1 is designed for ultra typing comfort and boost productivity.
Carbon Black Version (Non-transparent)
All-Around Customizable Keyboard
To build a fully customizable keyboard, we designed every component to be easily assembled so you can customize and adjust any or every parts the way you want.
Note: The screw heads are molded into the case, so they have a very strong grip and won't fall out.
Programmable Knob
Designed to enhance your creative workflow, its aluminum rotary encoder allows you to customize your favorite keys and macros on the knob through the VIA software with ease.
You can easily customize the V1's knob to your desired key or macro commands like zooming in/out, adjusting screen brightness, brush size, volume, selecting video clips or photos, or backlight hue.
An Epic Core Inside The Keyboard
A powerful ultra-low-power ARM architecture MCU equipped with 128K Flash will provide more flexibility for developers. The polling rate is 1000 Hz out of the box, which makes latency non-existent for the competitive game.
Switch Layouts Between macOS & Windows
Built with the Mac users' experience in mind while still retaining compatibility for Windows devices, the Keychron V1 comes with a system toggle and an additional set of customized keycaps for both Windows and macOS systems. You can now save two different layouts on the keyboard, one for each system.
Program V1 with QMK & VIA
With full QMK and VIA support, you can easily program and remap each key on the keyboard. The open-source firmware means endless possibilities for keyboard layouts, shortcuts, backlight effects, even the knob, and more. 
Get the V1 keymap working on VIA
Since the VIA code for the V1 is still awaiting approval from Github, it is not yet automatically recognized, so you will need to manually download and import the V1 keymap.

To get started, please follow the steps: Download the appropriate kemap JSON file below, open VIA, turn on "Show Design tab" on "Settings" tab, drag the JSON file into the "Design" tab on VIA to get the V1 keymap working on VIA.
V1 Knob Version Keymap JSON File
V1 Non-Knob Version Keymap JSON File
Hot-swappable
The hot-swappable sockets are mounted on the PCB, so you can install or change the switches without soldering. The PCB supports both 3-pin and 5-pin MX mechanical switches.
South-facing RGB LED Lights
The south-facing RGB LED is designed to better illuminate the keyboard backlight from the typist's angle with the premium non-shine-through PBT keycaps installed. The south-facing RGB is also free from interference when the users install OEM or Cherry-profile alternative keycaps on the keyboard.