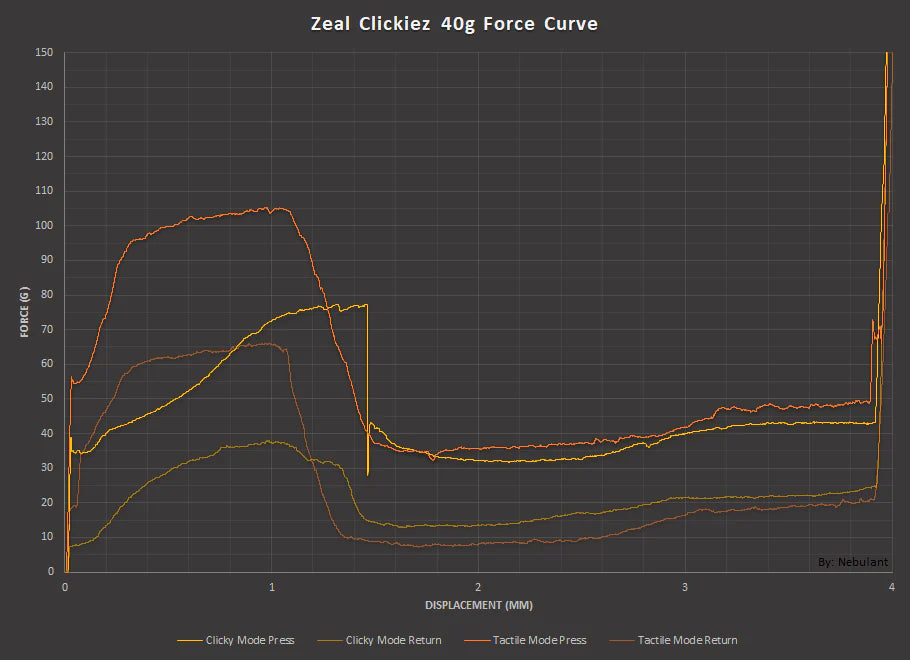 Clickiez Switches 40g (x10)
Switches come bundled in 10. You will need around 70 for 60/65% keyboards, and around 100 for TKL.

Switch Type: Clicky
Clickiez® are the world's first 3-in-1 MX switch that can transform into three different MX style switches via a non permanent mod to the leaf. These switches are fully compatible with Cherry profile keycaps when used with South facing switches (LED slot facing South, or in this case Zeal Logo facing South)

Featuring a Patent Pending multi mode click leaf design, this switch can be transformed from Clicky to Ultra High Tactile (think BKE level, but even more extreme) to super smooth Linear switch modes by simply moving the secondary switch leaf within the housing. Demonstration video will be provided in January 2022. Please note that this mod will require opening the switch, and we do not provide any warranties or replacements for user damaged switches or leafs. We do not carry spare / loose switch parts as all switches are factory assembled.

This switch uses Gateron's latest CAP series design to add stability to the stem, while also making it more lube friendly. Gone are the days where switch lube pools into the bottom pole.
Please note: These Clickiez are NOT compatible with Costar stabilizers due to the click leaf design for the housing causing interference with the wire. Please use Cherry stabilizers only.  
Specifications:


40g bottom out (73g peak force, 32g actuation)